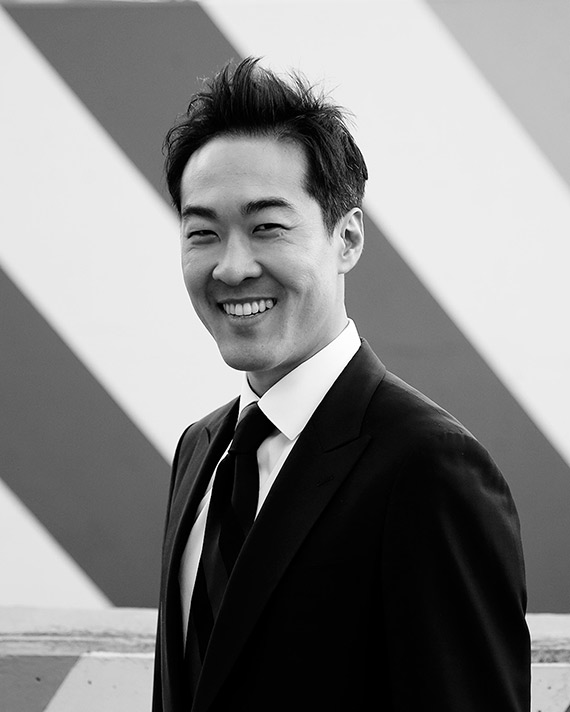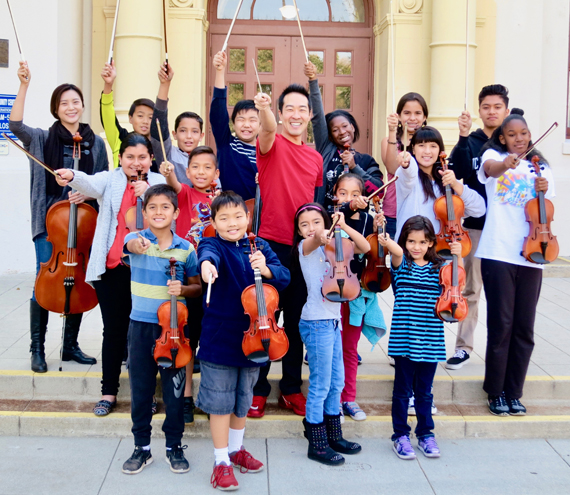 Whirlwind American tours and performances across the globe have earned pianist Alpin Hong the reputation as a modern day Pied Piper. From Walt Disney Hall to the White House, his combination of stunning technique, emotional range, and rare humor continues to bring audiences young and old to their feet. Rooted in extensive classical training and a background in extreme sports, martial arts, and video games, Mr. Hong is a creative force unmatched in his vitality and charisma. The New York Times called him a pianistic firebrand in a review of his standing-room only New York recital debut at Carnegie Hall's Weill Recital Hall. The Idaho Statesman said, "Hong cut a magnetic physical presence and charmed the audience with engaging, powerful movements that were fun to watch. Throughout the piece he and the orchestra showed a wonderful give and take." The Santa Barbara News Press hailed him as "a tour de force. Mr. Hong evoked a kind of Beatlemania when he came on stage. What a showman! What a musician!" His ability to captivate young audiences prompted the Ocala Star-Banner to call him "Classical for the iGeneration".
Performance highlights include his collaboration with The Flying Carpet Theater, Chasing Chopin. A daring mashup of autobiographical storytelling and dazzling piano performance, this extraordinary production toured the United States, with performances at Lincoln Center, the Gilmore Keyboard Festival, and Strings Music Festival. Mr. Hong's triumphant return to the Gilmore Keyboard Festival in 2022 showcased his new program "Alpin Hong and the Multiverse of Music". The centerpiece of his concert series was a mind-bending performance of an original piano trio he commissioned for the Festival dedicated to the music of Nintendo, Xbox, and PlayStation video games. Mr. Hong performed along with two other previously recorded versions of himself, leaving audiences laughing and stunned in turn. Having recently relocated to Oahu, Hawaii, he has quickly established himself as one of the island's finest musicians, collaborating with members of the Hawaii Symphony Orchestra, renowned slack-key guitarist Makana, and the principals of the Hawaii Opera Theatre. His third studio album Myths and Legends featuring works by Mussorgsky, Mendelssohn, Rachmaninoff and Chopin continues to delight listeners around the world.
Mr. Hong's visionary approach to arts education makes him a sought-after clinician and Artist-in-Residence worldwide. While still a student at Juilliard, in recognition of his gift for communicating his passion for music to audiences of all ages The McGraw-Hill Companies honored him with the Robert Sherman Award for Music Education and Community Outreach. He was the inaugural artist for the PLAY! series for Premiere Performances of Hong Kong, performing and lecturing in the country's premier schools. His collaboration with Atlanta's Trinity School culminated in a gala performance in Atlanta Symphony Hall, featuring Mr. Hong, members of the Atlanta Symphony Orchestra, violin star Ben Beilman and Trinity students. As the inaugural Music Director of the Riverside Arts Academy in Riverside, California, he founded the region's first youth orchestra and a progressive after-school program that continues to offer music training and instruments to underserved youth for little or no cost. In addition to his musical talents, Mr. Hong is an internationally renowned speaker and host. His message of artistry, tolerance, and service knits communities together in a spirit of common humanity. Mr. Hong's recent TEDx talk "Transform Yourself Into a Performer" at La Sierra University showcased his ability to inspire excellence in everyone, and has been viewed over 420,000 times. Mr. Hong is regularly featured as a keynote speaker for philanthropic and educational events, including the Korean American Scholarship Foundation's National Gala, the Michigan Music Teachers Association annual conference, WDPR Dayton's Catch a Rising Star Gala, the Alvord School District's Convocation in Riverside, California, and Diversity Day in Idaho Falls in honor of the Martin Luther King Jr. holiday. He was featured in the viral video series "5 Levels of Difficulty" featuring Jacob Collier and Herbie Hancock. Finally, Mr. Hong delighted millions around the world as the winning baker on Season 6, Episode 3 of the Netflix show "Nailed It!" Alpin Hong is a native of Michigan and made his orchestral debut with the Kalamazoo Symphony at the age of ten. He moved to Los Angeles soon after and garnered competition victories at a young age with wins at the 1989 Stravinsky Piano Competition, the 1993 Southern Youth Music Festival Competition and the 1994 Los Angeles Spotlight Awards Competition. He was the winner of the Concert Artists Guild Competition in 2001. His teachers include Mark Richman and Emilio del Rosario. He completed his Master's degree as a student of Jerome Lowenthal at The Juilliard School.